My 2021 Workspace
Wednesday, May 12, 2021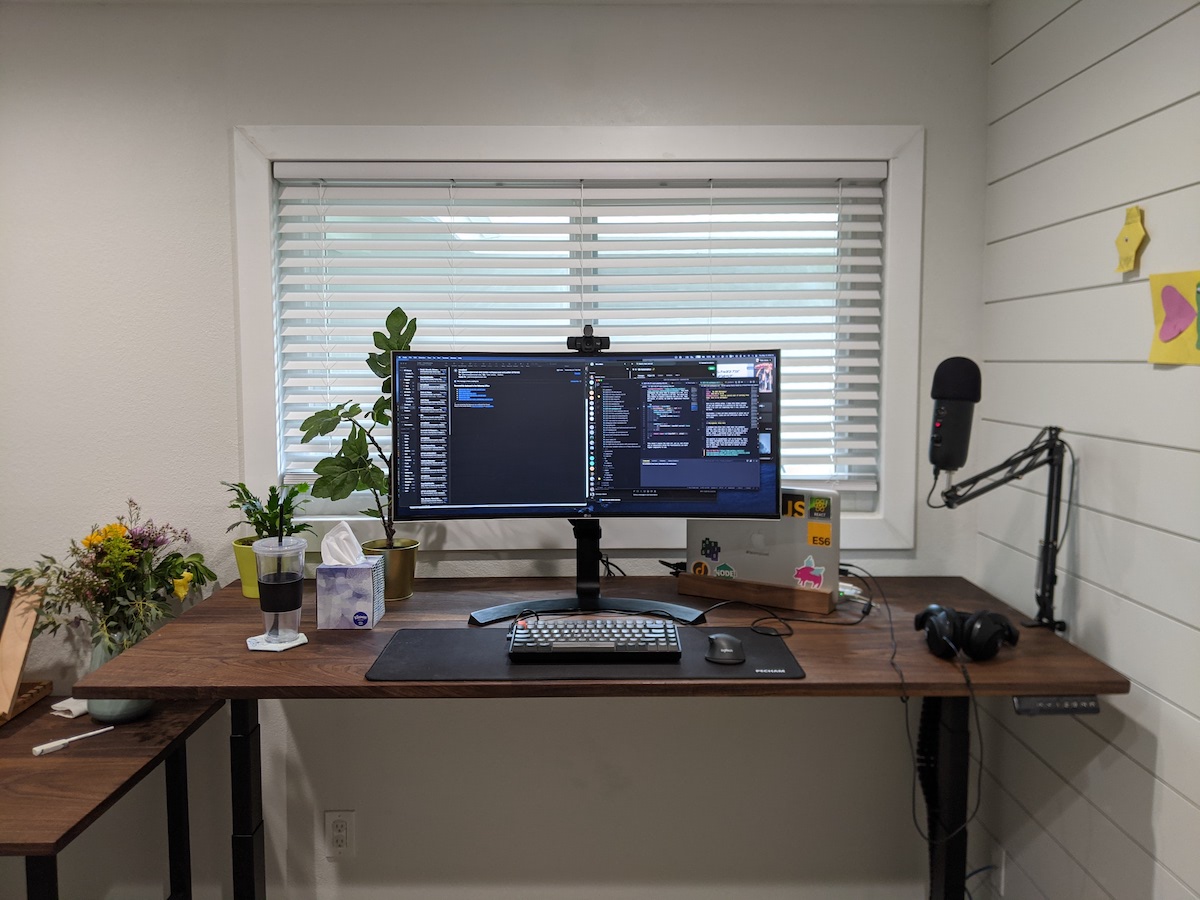 Here is my office setup. I hope this helps someone. If you see something in a picture on the site and think I've left out something that I use, please let me know.
Disclaimer: I have not been sponsored or given any of these products. Links are not affiliate links as far as I know.
Microphone: Blue Yeti
I grabbed this Blue Yeti right when the pandemic started, and I was able to snag it on eBay for about $40. The catch was that it didn't have the standard holder stand. I purchased an arm to complement it, and it's adjustable to be right by my face.
The quality is exceptional, but to be honest, there are other microphones that are also great. The Yeti, for example, has to be positioned pointing upright, not at your face. This can make it harder to arch over a monitor.
Monitor: LG 34" Ultrawide, Curved
I've tried a few variations of large monitors, and settled on this one. The color is great, the monitor works just as I would expect, and there aren't too many frills or unnecessary features.
The model I have is no longer sold because they seem to be getting constantly updated. Two tips: make sure the resolution is at least 3440x1440 (the lower resolution is significantly cheaper, but significantly worse for anything except gaming), and make sure it's an IPS screen. IPS screens have better viewing angles, which is important for such a wide screen.
For what it's worth, here are my opinions on related monitors:
LG 34" Ultrawide, not curved - As a somewhat early adopter of the 34" ultrawide, these were the only monitors available for quite a while (my work had to find a special corporate-approved IT supplier for these). They aren't bad, but the curved makes the edges significantly easier to see and use.
27" 4K monitor - Some tasks like video and games are nice on this monitor, and the pixel density is pretty great. However, text and programming are more difficult. I had a hard time getting the pixel ratio just right without sacrificing my GPU.
There are also newer 34" monitors that have an even higher resolution. If I had the money or need for a newer monitor, I would probably try to get one of those if possible.
Standing Desk: Deskhaus Apex Extended Range
My standing desk is from Deskhaus, a small company out in Michigan. After some research, most of the good frames are built by the same few companies. Deskhaus ships from the US and has great customer service. The desk is very stable and has less wobble than my old desk.
The desk top was made by me! More details about that in a post to come.
Chair: HON Exposure Mesh Chair
This chair was recommended as the budget pick from The Wirecutter when I bought it.
It's no Steelcase, no Aeron Miller, but it is comfortable to sit in all day. The lumbar support, cushioning, height adjustment, and flexibility are really great. If I had one complaint, it's that the arm rests are just not as adjustable as I would like. I wish they could go lower, and that the tops could adjust farther inwards and outwards. I may eventually remove them.
Mouse: Logitech M720 Triathlon
I bought this mouse on recommendation from The Wirecutter. My other mouse is a Logitech M705 Marathon. Both are great, but the Triathlon supports connecting with three devices, offers bluetooth, and is pretty comfortable to use all day. The forward and backward buttons took some extra configuring on MacOS, but the scrolling is very nice and smooth.
Camera: Logitech C920S
These were very hard to get last year. I sent my spouse to the next city over to snag the last one at Target. Little did I know at the time that they would be mostly unavailable for months afterward.
The camera is good. I think it uses hardware encoding, which saves me some CPU cycles. The color sensors are great, the picture is crisp, and the configuration utilities available on Linux and MacOS worked great with this.
Keyboard: Keychron K2
By the way, I bought this keyboard on Kickstarter, before it was cool.
I also have a Ducky One with Cherry MX Clear switches. The feel when typing is just barely lighter on this K2 with Gateron Browns. I think that the K2 sounds better, and the key placement is convenient. Because of the key layout the board is more narrow, so I can have my mouse closer to my body. I like the backlight and the effects. There are probably better keyboards and switches out there, but this one is nice for me.
Headphones: Sennheiser HD569
I read a lot ahead of buying these headphones. The closest I had tried before were the HD599 Open Back headphones. I originally bought these to use in an office, so I chose the closest closed-back setup, the HD598 or HD569 (basically, they are the same).
The sound is somewhat neutral, the quality is much better than sub-$100 headphones I had before. They also do not need a DAC or Amplifier.
Laptop Stand: Made by a friend from raw walnut
When I worked at ServiceNow, I saw our UI team grow from 3 employees to over 50! At one point, we literally used smaller desks so that we could all fit in a big room together (yay open office plans). With the 34" ultrawide monitors, desk space was at a premium. My friend made a few of these stands, so I guess you could call it a limited run. He used a router to make slots for the laptop and air vents on the bottom.
Microphone Stand: InnoGear Heavy Duty Microphone Stand
This is a basic microphone stand. There are better ones out there, but you'll probably pay more money. This one is very flexible and does not wobble on my desk. But the springs are a little noisy when pulling the microphone towards me.